If you would like to swap links with our site please select a banner below and copy it into your site images folder for use on your site:
Square banner (160x160 pixcels - 7.24kb gif):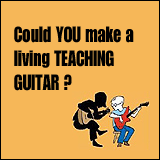 .
Long banner (468x60 pixcels - 7.28 gif):

Please link the banner to: http://www.teachguitar.com/index.htm
If your links list only contains text links then please use wording similar to this:
Could YOU make a living TEACHING GUITAR? Find out at Teachguitar.com!
Please email nick@teachguitar.com with details of how we should link to your site.
Please note that we only link to sites we consider relevant to our visitors!