Information > Links > Utilities
Summary: Online utilities for guitarists and guitar teachers

Utilities

Magnatune
Download great tunes and have that warm feeling that comes from knowing their creators are being fairly rewarded. Wide range of genres. High quality sound recordings. Strongly recommended.

Click here to download free karaoke songs
Download free karaoke songs!

Strings N' Rythms - Your Ultimate Guitar Resources!
Strings N' Rythms - Your Ultimate Guitar Resources! Resources for guitar tabs, lyrics, lessons, softwares downloads such as Guitar Pro etc.

TablEdit

A site that will allow you to download free of charge a useful bit of software for reading, writing and playing guitar tablature.

Virtual Guitar & Chordbook

An innovative Flash 5 enabled virtual guitar website. You can strum, make chords, pop on a capo, change the fret position or choose from 1,000 chords and save sets of chords. Also features a guitar tuner and inversion display.

Virtuallessons

Free guitar lessons, workshops, sheetmusic and tabs for 6 and 7 strings. Chordfinder, scalefinder, metronome, tuner, recording utilities and more.

Visionmusic.com

One of my favourite websites containing a large number of high quality backing tracks you or your students can play along to.


Swap links with us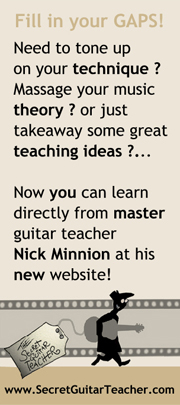 Guitarists' Dictionary


Resource Exchange Library


Guitar Teacher's Forum


Links